Deer Creek Church is having a Fall Festival on Saturday, October 26th from 2-7pm.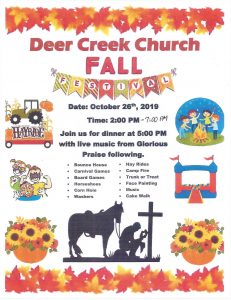 DCC is having a Fall Festival which will include lots of games for children and some for adults too. There will be Trunk or Treat where the kids can get candy. Some of the fun activities & games for everyone will include a Bounce House, Carnival Games, Board Games, Horse Shoes, Corn Hole, Washers, Ring Toss, Face Painting & a Cake Walk. We're planning on Hay Rides. And having a camp fire. Live music will be provided by the Glorious Praise Gospel group from 5:30-6:30 pm. We will be eating chili cooked in a large outdoor pot. Ladies are asked to bring sides, candy for Trunk or Treat, & Cakes or Desserts as donated 'prizes' for the Cake Walk. The weather is likely to be cool, at least for part of the day/evening so dress appropriately. And bring lawn chairs to be outside some, weather permitting. Should be a great time for all! Bring your family & friends.
This Wednesday, 10/9, will be our 5th lesson in the book study of "I am a Church Member".
Pastor Tommy is leading us on Wednesday's using the book, "I am a Church Member", written by Thom Rainer. This Wednesday, 10/9, will be our 5th night. It's been a great study! Hope to see you there!
The church exceeded our offering goal for the Missouri Missions Offering. Praise God!
The church collected $553 for the Missouri Missions Offering, exceeding our goal of $500. Praise God!
DCC is collecting for the Cuba Ministerial Alliance (CMA) Food Pantry.
For the Monthly Donations, there are collection boxes at the church to drop off needed/requested items collected. There are take home lists of monthly requested items located on top of the designated plastic box. The items requested each month are also listed below. Ken Sego or Pastor Tommy will deliver the collected items to the food pantry each month. Thank you ahead for giving/donating!
OCTOBER – cleaning supplies (soaps, Lysol, air fresheners, etc.).
NOVEMBER – canned meats (tuna, chicken, etc.).
DECEMBER – baking supplies (flour, sugar, salt, pepper, baking soda/powder, etc.).
DCC is collecting ahead for Samaritan's Purse Operation Christmas Child.
For Samaritan's Purse, Operation Christmas Child, the needed donated items can be left at the church in the designated plastic box. There are NEW take-home lists of things needed located on the table where the red/green boxes are located near the door. Please take a box, fill it with listed items, & we will meet to 'pack the shoeboxes' at a time after church. We'll be announcing on 10/13 WHEN to meet to pack boxes. All boxes will need to be turned by 11/17! Items collected will be sent to less fortunate children. Samaritan's Purse sends these boxes to children all over the world.
You can find out more about Samaritan's Purse online at: samaritanspurse.org and look at 'what we do'. You can click on Operation Christmas Child to see more about this ministry.